Radio SSB Yaesu FT-450
Yaesu FT-450 dengan kinerja kelas dunia yang mudah digunakan dan ringkas. Radio SSB ini menggunakan teknologi IF DSP yang canggih untuk menghadirkan serangkaian fitur canggih. Transmisi pada sebelas band amatir, mulai frekuensi 160 hingga 6 meter. Kisaran penerimaan adalah 30 kHz hingga 54 MHz. Output daya adalah 100 watt pada HF dan 6 meter. Mode operasi termasuk USB, LSB, CW, AM dan FM.
Yaesu FT-450 adalah radio transceiver amatir yang populer, menawarkan berbagai fitur yang sangat berguna bagi penggemar radio.
FITUR UTAMA Yaesu FT-450
Rentang frekuensi transmisi: 160-6 meter, yang mencakup berbagai pita amatir.
Rentang frekuensi penerimaan: 30 kHz – 56 MHz, memungkinkan Anda menerima sinyal dari berbagai sumber.
Daya keluaran: 100 watt (160-6 meter), memberikan daya transmisi yang kuat untuk komunikasi jarak jauh.
Mode operasi: USB, LSB, CW, AM, FM, yang memungkinkan Anda berkomunikasi dalam berbagai mode.
IF-DSP 400 MHz built-in, untuk pengolahan sinyal digital dan peningkatan kualitas audio.
Keyer elektronik built-in, untuk pengoperasian Morse code (CW) yang lebih mudah.
Tampilan LCD multi-fungsi berwarna, untuk memudahkan pengguna dalam mengatur dan memantau parameter radio.
Pengukuran bar-graf, yang menyajikan informasi penting seperti daya keluaran dan SWR.
TCXO built-in ± 1 PPM/jam (setelah pemanasan), untuk stabilitas frekuensi yang lebih baik.
Seleksi AGC Cepat-Lambat-Otomatis-Mati, untuk mengontrol penguatan penerima secara efisien.
Lebar IF & pergeseran, kontur, NR digital, filter notch manual, untuk mengoptimalkan penerimaan sinyal.
Colokan data khusus untuk FSK-RTTY, untuk komunikasi data digital.
Penyetem antena internal opsional (ATU-450), untuk mencocokkan impedansi antara radio dan antena.
Pegangan angkut opsional, untuk memudahkan pengangkutan unit.
CTCSS built-in, untuk mengakses repeater dan mengurangi interferensi.
Fungsi pengguna yang dapat dikonfigurasi melalui menu, untuk menyesuaikan pengaturan sesuai kebutuhan individu.
Yaesu FT-450 adalah pilihan yang baik bagi mereka yang mencari radio transceiver amatir yang andal dan serbaguna dengan fitur yang kaya.
FITUR LAINNYA
Transmit frequency coverage: 160 – 6 meters
Receive frequency coverage: 30 kHz – 56 MHz
Power output: 100 watts (160 – 6 meters)
Operating modes: USB, LSB, CW, AM, FM
400 MHz built-in IF-DSP
Built-in electronic keyer
Multi-color LCD multi-function display
Bar-graph metering
Built-in TCXO ± 1 PPM/hour (after warmup)
AGC Fast-Slow-Auto-Off selection
IF width & shift, contour, digital NR, manual notch filter
Dedicated data jack for FSK-RTTY
Optional internal antenna tuner (ATU-450)
Optional carry handle
Built-in CTCSS
User functions configurable by menu
Digital voice announcement of frequency, mode and S-meter
Clarifier adjustment
500 regular memories
Two voice memories
CW beacon function (up to 118 characters)
10 kHz roofing filter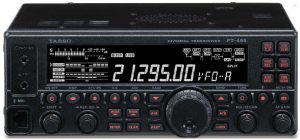 Spesifikasi Yaesu FT-450
GENERAL
Frequency Range: Receive:
30 kHz to 56 MHz
Transmit:
160 – 6 Meters
Emission Modes:
A1A (CW), A3E (AM), J3E (LSB/USB),
F3E (FM)
Frequency Steps:
1/10/20 Hz (SSB & CW), 100/200 Hz (AM & FM)
Antenna Impedance:
50 Ohm, Unbalanced
Operating Temp. Range:
-10 °C to +50 °C (14 F to 122 F)
Frequency Stability:
Better than ±1 ppm/hour (at 77 °F after warmup)
Power Requirements:
DC 13.8V ±10 %
Power Consumption:
Receive (Squelched): 0.55A,
Receive (signal present, Max. Audio): 1.5A
Transmit: 22A (@ 100W RF output)
Case Size:
9″ (W) x 3.3″ (H) x 8.5″ (D) (229 x 84 x 217 mm)
Weight:
8.8 lb. (4.0 kg.)
TRANSMITTER
Power Output:
100 Watts (25 Watts AM carrier)
Modulation Types: J3E (SSB):
Balanced Modulator
F3E (FM):
Variable Reactance
A3E (AM):
Early Stage (Low Level)
FM Maximum Deviation:
±5 kHz / ±2.5 kHz
Spurious Radiation: Harmonics:
Better than -60 dB (160-10m)
0
Better than -70 dB (6m)
SSB Carrier Suppression:
At least 60 dB below peak output
Undesirable Sideband Suppression:
At least 60 dB below peak output
Audio Response (SSB):
300 Hz – 2600 Hz (not more than -6 dB)
Microphone Impedance:
600 Ohms (200 – 10k Ohms)
RECEIVER
Sensitivity (IPO OFF, ATT : OFF):
SS (BW: 2.4 kHz, 10 dB S+N/N)
AM (BW: 6 kHz, 10 dB S+N/N, 30 % modulation @400 Hz)
FM (BW: 10 kHz, 12 dB SINAD)
1.8 – 2.0 MHz:
0.25 uV
2.0 uV
–
3.5 -28 MHz:
0.25 uV
2.0 uV
–
28 – 30 MHz:
0.25 uV
2.0 uV
0.5 uV
50 – 54 MHz:
0.20 uV
1.0 uV
0.3 uV
Circuit Type : Double Conversion Superheterodyne
Squelch Sensitivity:
SSB/CW/AM
FM
1.8 – 28 MHz:
2.5 uV
–
28 – 30 MHz:
2.5 uV
0.32 uV
50 – 54 MHz:
1.0 uV
0.16 uV
Intermediate Frequencies:
1st IF:
67.899 MHz
2nd IF:
24 kHz
Image Rejection:
Better than 80 dB (1.8 – 30 MHz)
0
Better than 65 dB (50 – 54 MHz)
IF Rejection:
Better than 60 dB
Selectivity (-6 / -60 dB):
0
SSB:
2.2 kHz/4.5 kHz
CW:
500 Hz/2.0 kHz
AM:
6 kHz/20 kHz
FM:
15 kHz/30 kHz (-6 / -60 dB)
FM-N:
9 kHz/25 kHz (-6 / -60 dB)
Audio Output:
2.2 W into 4 Ohm
Audio Output Impedance:
4 Ohm – 16 Ohm (8 ohms nominal)
Specifications are subject to change without notice, and are guaranteed within amateur bands only.