HT Weierwei VEV-2660 Dual Band
Handy Talky Weierwei VEV-2660 adalah HT dual band yang cocok untuk pengguna radio amatir yang sering bepergian dan membutuhkan handy talky yang mudah digunakan. VEV-2660 memiliki berbagai fitur lengkap, seperti pemrograman memori, pemindaian otomatis, dan pemancar sidik jari, yang membuatnya menjadi pilihan yang tepat untuk pengguna radio amatir yang aktif.
Frequency : Dual Band VHF / UHF
Output Power: 5 Watt
128 Channels
50 CTCSS and 104 CDCSS
3 colors LCD display (blue, orange, and purple)
Selain itu, handy talky ini juga dilengkapi dengan fitur-fitur lain seperti 1750Hz Burst Tone, LED flashlight, Large LCD display, serta Emergency Alert. Dengan kekuatan output 5 watt, pengguna dapat berkomunikasi dengan jarak yang jauh. Dengan 128 channel yang tersedia, VEV-2660 juga dapat menyimpan frekuensi favorit pengguna dengan mudah.
VEV-2660 adalah handy talky dual band yang dilengkapi dengan berbagai fitur lengkap untuk memenuhi kebutuhan pengguna radio amatir yang aktif dan sering bepergian. Dengan desain yang ergonomis dan mudah digunakan, handy talky ini cocok untuk pengguna yang ingin berkomunikasi di mana saja dan kapan saja.
Fitur-Fitur
Berikut adalah fitur-fitur keunggulan HT dual band Weierwei VEV-2660: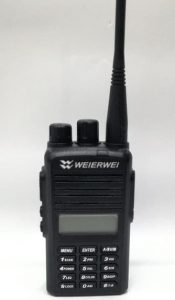 Frequency : Dual Band VHF / UHF
Output Power: 5 Watt
128 Channels
50 CTCSS and 104 CDCSS
3 colors LCD display (blue, orange, and purple)
Built-in VOX Function
1750Hz Burst Tone
FM Radio (65.0MHz – 108.0MHz)
LED Flashlight
Large LCD Display
High/Low RF Power Switchable
25KHz/12.5KHz Switchable
Emergency Alert
Low Battery Alert
Battery Saver
Time-out Timer
Keypad Lock
Monitor Channel
SPESIFIKASI
| Fitur | Spesifikasi |
| --- | --- |
| Frekuensi | Dual Band VHF / UHF |
| Kekuatan Output | 5 Watt |
| Jumlah Channel | 128 |
| CTCSS | 50 |
| CDCSS | 104 |
| Tampilan LCD | 3 Warna (Biru, Orange, dan Ungu) |
| VOX Function | Ya |
| 1750Hz Burst Tone | Ya |
| FM Radio | 65.0MHz – 108.0MHz |
| Lampu Senter | Ya |
| Layar LCD Besar | Ya |
| High/Low RF Power Switchable | Ya |
| 25KHz/12.5KHz Switchable | Ya |
| Emergency Alert | Ya |
| Low Battery Alert | Ya |
| Battery Saver | Ya |
| Time-out Timer | Ya |
| Keypad Lock | Ya |
| Monitor Channel | Ya |
Harga Handy Talky Weierwei VEV-2660 HT Dual Band Terbaru Garansi Resmi 1 Tahun. Dapatkan harga penawaran terbaik Call (021) 4211456