Handy Talky Hytera HYT TC-700 EX Plus VHF 136 – 174 MHz, HT Explosion Proof
Intrisically Safe (IS) two way radio.
Untuk digunakan di Hazardous Area
Ideal for high-level professionals who want powerful yet streamlined communication tools, the TC-700 series are packed with cutting-edge technology and HYT innovations.
HYT TC-700 EX Plus VHF 136 – 174 MHz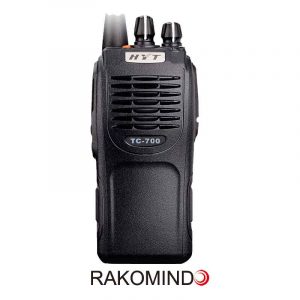 FEATURES
Intrinsically safe hand-held radio
Productivity
The supplied lithium-ion battery with 1700 mAh enables an operating time of 14 hours at an operating cycle of 5-5-90.
Adaptability
The intrinsically safe TC-700 Ex PLUS supports a large selection of ATEX-certified audio accessories, such as hand-held microphones, bone-conduction headsets and simple ear plugs.
Expanded safety functions
The clearly visible emergency call button triggers a defined emergency communication procedure. An even greater protection for working in hazardous environments is provided by the optional man down function of the TC-700 Ex PLUS. This function automatically requests support if the radio transceiver is lying on the floor for a defined period of time.
Lone Worker Function
The Lone Worker Function offers you additional safety if you are working alone and outside from your team. If you do not respond to a warning tone that is emitted at regular intervals, an emergency call is automatically transmitted.
Safety check
If you do not respond to the safety check signal, a defined emergency procedure is activated.
Secure battery lock
The secure lock of the battery ensures that the battery cannot fall out if the radio transceiver should be dropped.
Improved voice quality
HDC2400TM and HDC1200 signalling
The signalling with HDC2400 enables functions, such as identification, call timer, voice storage, individual call, group call and broadcast call.
SPECIFICATIONS
General

Frequency Range

136-174MHz/400-470MHz/450-520M

Channel Capacity

16

Channel Spacing

25 /20/12.5KHz

Operating Voltage

7.4V DC

Battery

1700mAh (Li-Ion)

Battery Life (5-5-90 duty cycle)

About 14 Hours

Frequency Stability

±2.5ppm

Antenna Impedance

50Ω

Dimensions(H×W×D) (with battery, without antenna)

122×55×38mm

Weight (with antenna & battery)

426g

Transmitter

RF Power Output

≤3.5W/1W

Modulation

16K0F3E/11K0F3E

Spurious and Harmonics

-36dBm<1GHz -30dBm>1GHz

FM Noise

45/40dB

Audio Distortion

≤5%

Receiver

Sensitivity

0.25/0.35 μV

Selectivity

70/60dB

Intermodulation

65dB

Spurious Response Rejection

70dB

S/N

45/40dB

Rated Audio

0.5W

Rated Audio Distortion

≤5%
Aksesoris: