Hytera RD988S adalah repeater digital canggih yang dirancang untuk memperluas jangkauan komunikasi di lingkungan bisnis dan industri yang luas dan kompleks. Hytera adalah pabrikan asal China yang mengkhususkan diri dalam produksi peralatan komunikasi profesional seperti radio portabel, repeater, dan sistem komunikasi terpadu. Berikut adalah beberapa fitur dan kegunaan dari Hytera RD988S:
Dukungan untuk DMR Trunking Tier II dan Tier III: Hytera RD988S mendukung protokol DMR Trunking Tier II dan Tier III, sehingga dapat diintegrasikan dengan sistem komunikasi DMR yang sudah ada. DMR Trunking Tier II mendukung beberapa pengguna pada satu saluran dengan waktu yang terbagi-bagi, sedangkan DMR Trunking Tier III mendukung multiple saluran yang terdistribusi dan pengguna terorganisir di dalamnya.
Mendukung Komunikasi Digital dan Analog: Hytera RD988S dapat bekerja dalam mode digital dan analog, sehingga dapat berkomunikasi dengan semua jenis radio yang mendukung mode digital atau analog.
Tenaga Output yang Tinggi: Hytera RD988S memiliki tenaga output yang tinggi hingga 50 watt, sehingga dapat menjangkau jarak yang cukup jauh.
Dukungan untuk Beberapa Saluran: Hytera RD988S mendukung hingga 16 saluran, sehingga dapat digunakan untuk mengelola jaringan komunikasi yang kompleks.
Pemantauan Jarak Jauh: Hytera RD988S dapat dikonfigurasi untuk memantau jarak jauh melalui internet, sehingga memudahkan pengawasan dan pengaturan dari jarak jauh.
Kecil dan Ringkas: Hytera RD988S dirancang dengan ukuran yang kecil dan ringkas, sehingga dapat dipasang di ruangan atau tempat yang terbatas.
Keamanan Data: Hytera RD988S mendukung enkripsi sinyal untuk melindungi data dan informasi yang dikirimkan melalui jaringan.
Repeater Hytera RD988S
Teknologi yang digunakan oleh repeater Hytera RD988S adalah teknologi digital yang canggih dan dapat menangani sinyal suara dan data dengan lebih efisien dan jelas. Repeater ini juga dilengkapi dengan fitur pemrosesan suara digital dan teknologi pengurangan kebisingan, sehingga suara yang dihasilkan jernih dan mudah dipahami.
Dengan dukungan untuk DMR Trunking Tier II dan Tier III, teknologi digital canggih, tenaga output yang tinggi, dan dukungan untuk beberapa saluran, Hytera RD988S dapat meningkatkan kinerja komunikasi dan koordinasi antar karyawan di berbagai lingkungan kerja.
HYTERA RD988S adalah repeater terupgrade 50W, DMR dan Analog mode dapat bekerja dalam mode konvensional dan DMR konvensional, analog konvensional, MPT-1327, DMR konvensional, DMR trunking dan DMR simulcast hanya dengan satu platform perangkat keras.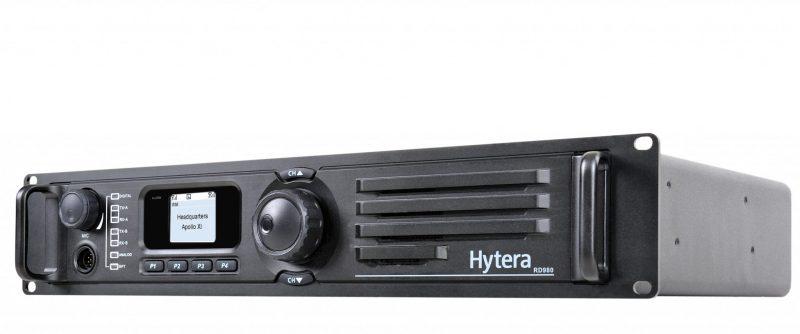 Spesifikasi
General

Frequency

UHF1: 400-470MHz

UHF2: 450-520MHz

UHF3: 350-400MHz

VHF:  136-174MHz

Channel Capacity

16

Channel Spacing

12.5kHz/20kHz/25kHz

Operating Voltage

13.6V±15%

Current Drain

Standby

<0.8A

Transmit

<11A

Frequency Stability

±0.5ppm

Antenna Impedance

50Ω

Duty Cycle

100%

Dimensions (H×W×D)

88 X 483 X 366 mm

Weight

8.5 kg

LCD Display

220*176 pixels, 262000 colors

2.0 inch, 4 rows

Transmitter

RF Power Output

5-50W

FM Modulation

11K0F3E @ 12.5kHz

14K0F3E @ 20kHz

16K0F3E @ 25kHz

4FSK Digital Modulation

12.5kHz Data Only: 7K60FXD

12.5kHz Data & Voice: 7K60FXW

Conducted/Radiated Emission

-36dBm <1GHz

-30dBm >1GHz

Modulation Limiting

±2.5 kHz @ 12.5 kHz

±4.0 kHz @ 20 kHz

±5.0 kHz @ 25 kHz

FM Hum & Noise

40dB @ 12.5 kHz

43dB @ 20 kHz

45dB @ 25 kHz

Adjacent Channel Power

70dB@20 /25kHz

Audio Response

+1 ~ -3dB

Audio Distortion

≤3%

Digital Vocoder Type

AMBE++ or SELP

Digital Protocol

ETSI-TS102 361-1,-2,-3

Receiver

Sensitivity

Analog

0.3μV (12dB SINAD)

0.22μV (Typical) (12dB SINAD)

0.4μV (20dB SINAD)

Digital

0.25uV/BER5%

Adjacent Channel Selectivity

TIA-603

ETSI

65dB @ 12.5 kHz ;75dB @ 20/25 kHz

65dB @ 12.5 kHz ;75dB @ 20/25 kHz

Intermodulation

TIA-603

ETSI

75dB @ 12.5/20/25 kHz

70dB @ 12.5/20/25 kHz

Spurious Response Rejection TIA-603

ETSI

80dB @ 12.5/20/25 kHz

80dB @ 12.5/20/25 kHz

Blocking

TIA-603

ETSI

90dB

90dB

Hum and Noise

40dB @ 12.5kHz

43dB @ 20kHz

45dB @ 25kHz

Rated Audio Power Output

0.5W

Rated Audio Distortion

≤3%

Audio Response

+1 ~ -3dB

Conducted Spurious Emission

<-57dBm
All specifications are subject to change without notice due to continuous development.