HT Hytera PD408 VHF/UHF
Handy Talky Hytera PD408 adalah radio digital yang andal dan efisien yang cocok untuk pengguna profesional yang membutuhkan komunikasi yang jelas dan aman dalam paket yang tahan lama dan dilengkapi dengan fitur-fitur canggih seperti enkripsi dan tahan air. Radio ini ideal untuk digunakan di lingkungan kerja yang keras dan sulit.
Hytera PD408 adalah radio genggam digital yang dirancang untuk penggunaan profesional. Radio ini termasuk dalam seri Hytera PD4 dan menawarkan berbagai fitur dan kemampuan untuk memastikan komunikasi yang andal dan efisien.
Beberapa fitur kunci dari Hytera PD408 termasuk:
Teknologi digital: PD408 menggunakan teknologi digital untuk memberikan komunikasi suara yang lebih jelas dan jangkauan yang lebih besar dari radio analog tradisional.
Desain yang tahan lama: Radio ini memiliki desain yang tahan terhadap kondisi lingkungan yang keras dan kondisi yang sulit. Radio ini juga tahan air dan debu, menjadikannya ideal untuk digunakan di lapangan.
Kapasitas kanal yang tinggi: PD408 dapat mendukung hingga 256 kanal, memungkinkan pengguna untuk mengakses berbagai saluran komunikasi.
Dukungan mode ganda: Radio mendukung mode operasi analog dan digital, membuatnya kompatibel dengan berbagai sistem radio yang sudah ada.
Daya tahan baterai yang lama: Radio dilengkapi dengan baterai yang kuat yang memberikan waktu operasi hingga 16 jam.
Versatile voice calls: PD408 mendukung berbagai jenis panggilan suara, termasuk panggilan individu, kelompok, dan siaran, menjadikannya cocok untuk berbagai skenario komunikasi.
Fitur keamanan: Radio ini dilengkapi dengan enkripsi canggih untuk memastikan komunikasi yang aman dan dapat diprogram dengan password untuk menghindari penggunaan yang tidak sah.
Pilihan aksesori yang luas: Radio ini didukung oleh berbagai pilihan aksesori, seperti baterai cadangan, mikrofon pengeras suara, dan earpiece, sehingga memudahkan pengguna untuk menyesuaikan radio sesuai kebutuhan.
Antarmuka pengguna yang mudah digunakan: PD408 memiliki antarmuka pengguna yang intuitif dan mudah digunakan bahkan untuk pengguna yang tidak terbiasa dengan digital radio.
FITUR-FITUR Hytera PD408
Kualitas suara yang baik
Dengan teknologi digital yang tertanam, Hytera PD408 menghasilkan kualitas suara yang luar biasa bahkan dalam lingkungan yang berisik dan di luar jangkauan radio.
Pemanfaatan rentang frekuensi yang lebih baik
Dengan metode TDMA, Hytera PD408 memungkinkan untuk mengkonfigurasi lebar pita yang tersedia dengan kapasitas saluran dua kali lipat dari radio analog konvensional. Ini memiliki efek meredakan yang jelas terhadap peningkatan kelangkaan spektrum.
Kanal analog dan digital yang bercampur
Fungsi ini memastikan bahwa Hytera PD408 dapat mendeteksi sinyal analog dan digital dan secara otomatis berubah ke mode operasi yang relevan.
Kuat
Radio genggam Hytera PD408 tahan debu dan air sesuai dengan IP55, dan memenuhi standar militer AS MIL-STD-810 C/D/E/F/G.
Masa pakai baterai yang lama
Dengan masa pakai baterai hingga 16 jam dalam operasi digital, PD405 adalah daya tahan dan dapat diandalkan bahkan saat digunakan untuk jangka waktu yang lama.
Fungsi Lainnya Hytera PD408
Berbagai mode operasi: analog, DMR Tier II, atau campuran
Menggulirkan saluran digital atau analog
Mendukung transmisi pesan teks yang diprogram sebelumnya
Mode langsung TDMA memungkinkan hingga dua panggilan simultan, bahkan tanpa pengulang
Pengiriman suara yang diaktifkan oleh suara (VOX)
Kecil, ramping, ringan: 112 x 54 x 28 mm, berat hanya 270 g
Panggilan individu, panggilan grup, dan panggilan untuk semua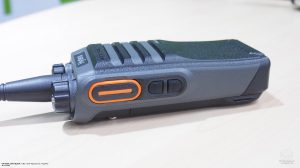 Spesifikasi Hytera PD408
General data

Frequency range

VHF: 136 – 174 MHz
UHF: 400 – 470 MHz

Supported operation modes

DMR Tier II (DMR conventional)
Analog

DMR Tier II in reference to ETSI TS 102 361-1/2/3

Channel capacity

256 (128 analog + 128 digital)

Number of zones

3

Channel spacing

12.5 / 25 kHz

Operating voltage

7.4 V (nominal)

Battery

1500 mAh (lithium-ion battery)

Battery service life(5-5-90 duty cycle)

analog / digital:
approx. 12 / 16 hours (with 1500 mAh)
approx. 16 / 22 hours (with 2000 mAh)

Frequency stability

±0.5 ppm

Antenna impedance

50 Ω

Dimensions (H×W×D)
(with standard battery, without antenna)

112 x 54 x 28 mm

Weight

approx. 270 g

Programmable keys

2

Transmitter

Transmitting power

VHF: 1 / 5 W
UHF: 1 / 4 W

Modulation

11 K0F3E at 12.5 kHz
16 K0F3E at 25 kHz

4FSK digital modulation

12.5 kHz (data only): 7K60FXD
12.5 kHz (data and voice): 7K60FXW

Interfering signals and harmonics

-36 dBm < 1 GHz
-30 dBm > 1 GHz

Modulation limiting

±2.5 kHz at 12.5 kHz
±5.0 kHz at 25 kHz

Hum and noise

40 dB at 12.5 kHz
45 dB at 25 kHz

Adjacent channel selectivity

60 dB at 12.5 kHz
70 dB at 25 kHz

Audio sensitivity

+1 dB to -3 dB

Audio distortion

≤ 3%

Digital vocoder type

AMBE +2™

Receiver

Sensitivity (analog)

0.22 μV (12 dB SINAD)
0.22 μV (typical) (12 dB SINAD)
0.4 μV (20 dB SINAD)

Sensitivity (digital)

0.22 μV / BER 5%

Adjacent channel selectivity
TIA-603
ETSI

60 dB at 12.5 kHz / 70 dB at 25 kHz
60 dB at 12.5 kHz / 70 dB at 25 kHz

Intermodulation
TIA-603
ETSI

70 dB at 12.5/25 kHz
70 dB at 12.5/25 kHz

Spurious response rejection
TIA-603
ETSI

70 dB at 12.5/25 kHz
70 dB at 12.5/25 kHz

Hum and noise

40 dB at 12.5 kHz
45 dB at 25 kHz

Nominal audio power output

0.5 W

Audio distortion

≤ 3 %

Audio sensitivity

+1 dB to -3 dB

Conducted spurious emission

< -57 dBm

Ambient data

Operating temperature range

-30 °C to +60 °C

Storage temperature range

-40 °C to +85 °C

ESD

IEC 61000-4-2 (level 4)
±8 kV (contact discharge) ±15 kV (air discharge)

Protection against dust and moisture

IP55

Shock and vibration resistance

MIL-STD-810 C/D/E/F/G

Relative humidity

MIL-STD-810 C/D/E/F/G

Semua informasi teknis telah ditentukan di pabrik dan sesuai dengan standar yang sesuai. Subjek berubah atas dasar pengembangan kontinu.
Aksesoris Standar
Baterai, Lithium-Ion 2000 mAh
Antena VHF atau UHF
Charger Single Unit
Belt Clip
Manual Book
Aksesoris Opsional
Baterai

Antena

Charger

Single Charger
 Multi Unit Charger
Vehicle Charger

CHV09, Powered by the vehicle lighter